Shipping & Return
Shipping and Return Policies
How is shipping calculated?
Shipping is based on the weight and dimensions of the packages.

What carrier will be used when shipping my order?
We ship UPS Ground and Post office Mail

Do you charge any extra handling fees?
Free shipping to the Lower 48 States, no ship to Hawaii, or Alaska, APO/FPO, or US territories and protectorates.
Is there a money-back guarantee on all items?

Our merchandise is not sold on a guaranteed sales basis and may not be returned without our authorization. A Return Authorization Number will be issued for approved returns.

What is the return policy for defective goods?
Claims for shortages or defective goods must be made within 30 business days after receiving the merchandise.

Is there a restocking fee?
Merchandise accepted for return other than defective or wrong merchandise is subject to a 25% restocking fee.

Who pays for shipping on returns?
Sellers pay the freight of any returned merchandise.

Do you perform quality assurance on your products?
All merchandise leaves our warehouse in perfect condition. Your order is inspected for accuracy and packed carefully. Our responsibility for the condition of your order ends when the carrier picks it up.

How long does it take to get my packages?
For UPS Ground, please refer to the image below. All dates are approximate and do not apply to freight.
UPS Map Below:
Shipping
Time in Transit Maps
Orders placed by 2:00 pm EST usually ship the same day.
This map shows transit times for UPS ground transit times. Note the next day delivery options in the tri-state area. We ship from our store at 108 Varick ave Brooklyn NY 11237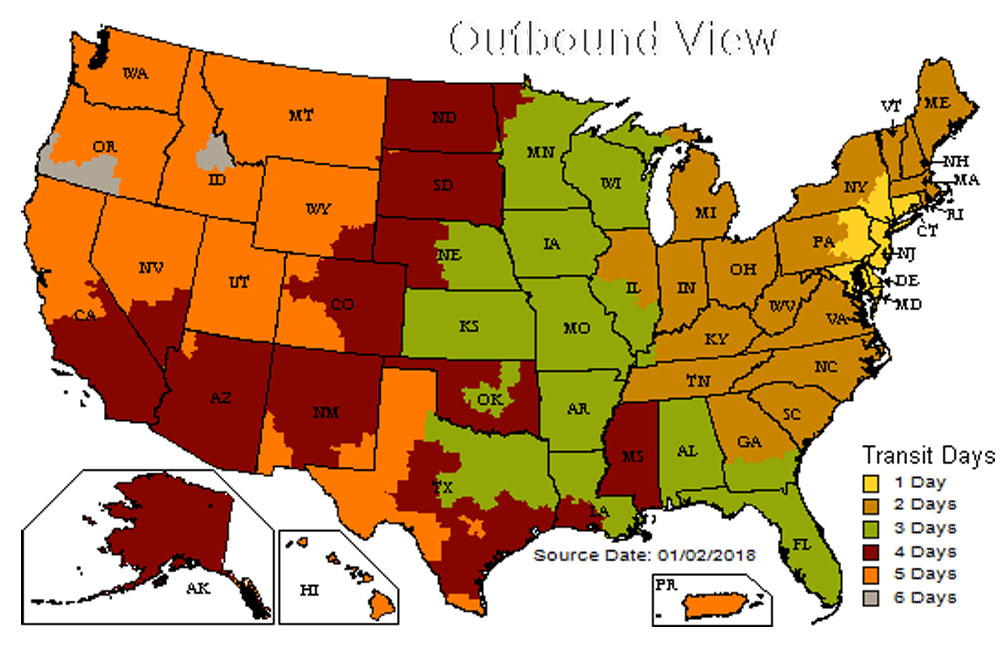 Transit times do not include weekends or postal holidays. For example, if we ship your order on Friday to Los Angeles, CA ( Five business days), you should get it on Friday.
We ship from our store at 108 Varick ave Brooklyn NY 11237